Description
Premium 8 input 10 output DSP matrix processor.
When you require total control and optimization to achieve great sound quality, AudioControl's DM-810 Processor is the solution.
The powerful AudioControl DM-810 processor allows users to truly optimize the performance of their audio system, regardless of whether they are using a factory or aftermarket source, and to truly achieve the goal of "Making Good Sound Great".
These highly versatile Digital Signal processors are equipped with key features, such as active speaker level inputs, line-level and digital audio inputs, providing up to 10 channels of output. AudioControl's DM Smart DSP app (available as a free download) contains the power of AudioControl processing through a flexible interface packed full of features in a simple lay out. Configure signal summing, 30 bands of equalization, signal time-alignment, input delay and phase correction, plus AudioControl proprietary features like AccuBASS®, GTOTM Signal Sense, and MILCTM as well as integrated input and output RTA's.
The built in Option Port on the DM-810 is the future of car audio and will allow hi-res streaming directly into the DSP. It also opens up future proprietary connections for additional inputs, controllers and interface solutions.
Designed to be the ultimate in sound quality and enhanced audio performance, the DM-810 is our latest AudioControl processor that sets a new standard for sound and what can be achieved in car audio systems.
Connect your laptop to the DM-810 using AudioControl's DM Smart DSP app, a fully featured Matrix DSP Interface designed to give you instant and clear control over every aspect of your processor.Route any input to any output, adjust gain, delay and polarity then precisely tune the DM-810 using a 30 band EQ. High-pass, low-pass and band-pass can be set up for any output using 12 or 24 dB/octave Linkwitz-Riley crossovers.
For OEM integration, take advantage of the input and output RTAs, available for every input and output, to easily identify and sum factory speaker signals.
With a clear GUI and intuitive workflow, AudioControl's Smart User Interface will take the guesswork out of tuning your system to your exact specifications.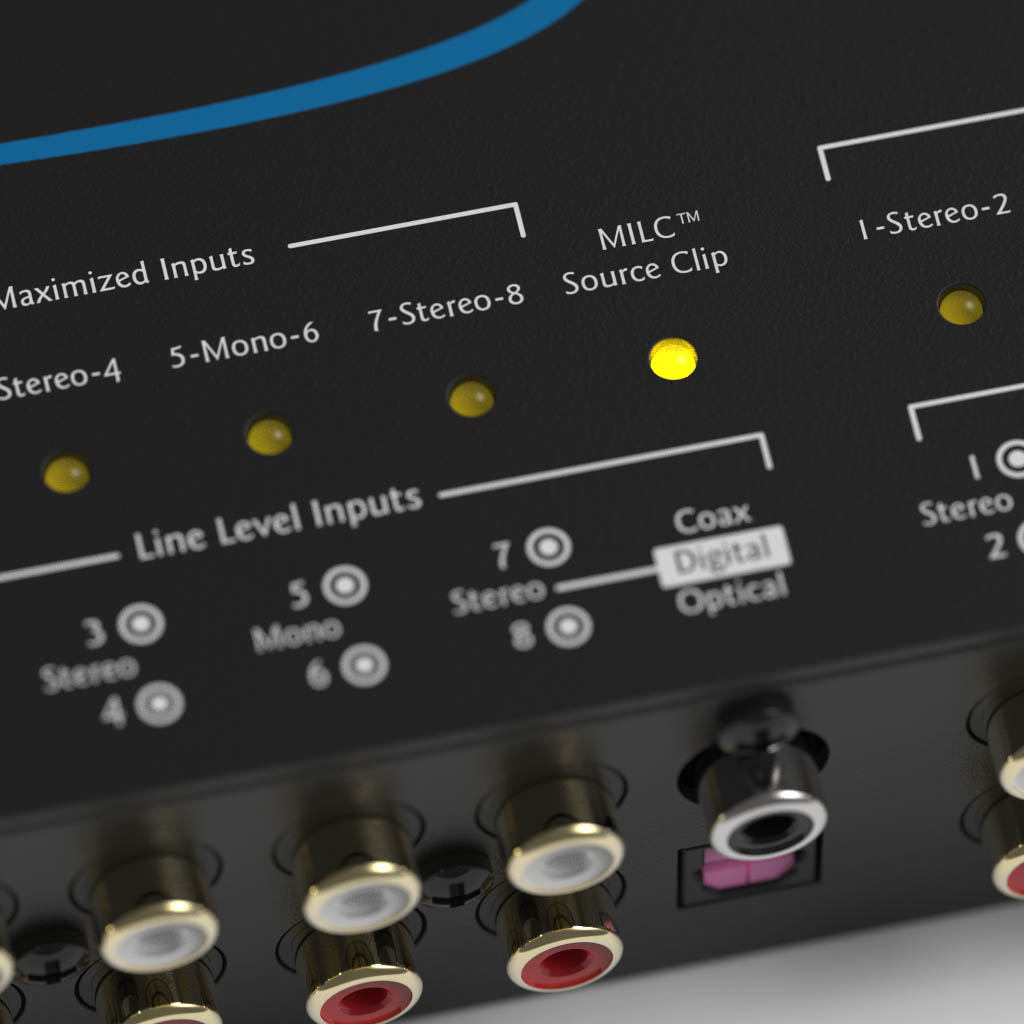 MILCTM
The AudioControl DM-810 features AudioControls MILCTM (Maximum Input Level Control) patent-pending source clip detection circuit. MILCTM calculates when the waveform of an incoming audio signal is clipping, and if it is, the LED will fulfill its prime objective and shine forth, aiding in precise level matching control.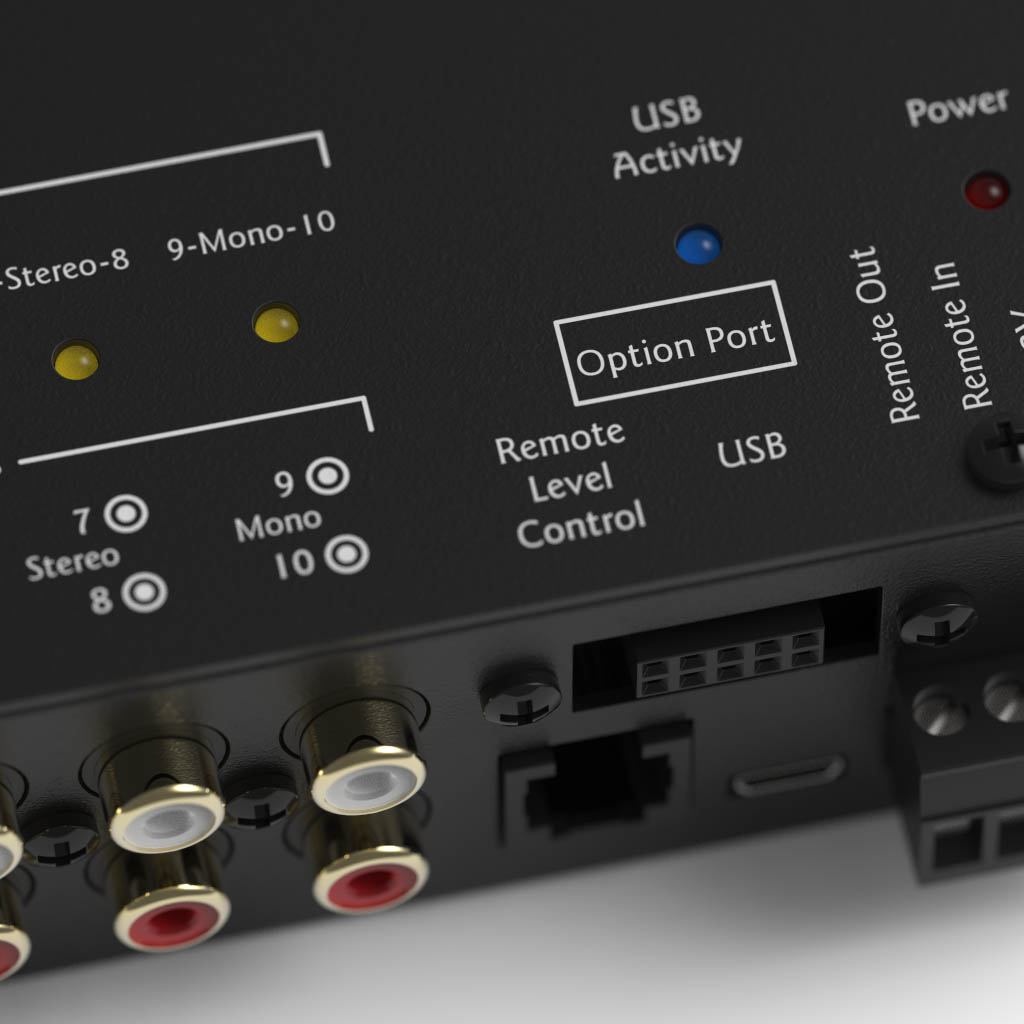 Option port
The built in Option Port on the DM-810 is the future of car audio and allows hi-res streaming and DSP programming directly into the DSP using the AC-BT24 Bluetooth Streamer/Programmer. It also opens up future proprietary connections for additional inputs, controllers and interface solutions. Watch this space for future Option Port expansion options.
Features:
Input and Output RTA for precise and informed tuning
GTO

TM

Signal Sensing
MILC

TM

Clip Detection
AccuBASS

®

Signal Summing
Signal Delay
12 and 24 dB/octave crossovers
30 band equalizer
Optional ACR-3 remote for preset recall and level control
Optional AC-BT24 Bluetooth Streamer/Programmer
DM Smart DSP app available in downloads for Mac/PC
Inputs
Preamp Input Channels: 8
Digital Inputs: 1 x Toslink and Coax
Input Impedance Preamp / Speaker-level: 20 kΩ / 7 kΩ
Outputs
Preamp Outputs Channels: 10
Maximum Output Level: 10 Vrms
Output Impedance: 150 Ω
Performance
Total Harmonic Distortion: 0.01%
Frequency Response: 20 Hz to 24 kHz
Crossover Frequency: variable
Crossover Type: 12 and 24 dB/octave Linkwitz-Riley
Control
12 VDC Remote In
12 VDC Remote Out (always active when unit is on)
General
Power Supply: High Headroom PWM Switching
Current Draw: 1A
Recommended Fuse Rating: 3A
Weights & dimensions
Dimensions: 10.5"W x 5.7"D x 1.6"H
Weight: 2.6lbs (1.2kg)
Sound Garage, your Authorised AudioControl Dealer, Stockist and Installation Centre.