Description
THINKWARE F50 8GB DASH CAM
Full HD 1CH Recording
Safety Camera Alert*
1080p Full HD
30fps
Optional GPS
DUAL SAVE® (Internal BackUp Memory)​ / Format Free Technology
VARIOUS AUTONOMOUS RECORDING MODES

Automatically Switching Recording Modes

Get in and go without having to worry about if your Thinkware Dash Cam is recording.
Thinkware Dash Cam's automatically switch recording modes depending on the vehicle is doing

Continuous Recording Mode
Event Recording Mode
This mode is activated automatically when you start the car.
Recorded videos are saved in one-minute segments with an auto-looping mechanism.
The active impact monitoring system will automatically store the video data
10-seconds prior to and after a collision registered by the 3-axis G-Sensor,
saving a 20-second video into the designated Event Detection folder on the
memory card. No searching through hours of footage to find the right video. Easy.
Manual Recording Mode
Parking Surveillance Mode*
By pressing the Manual Recording button your Thinkware Dash Cam
will capture events that occur in front of your vehicle whether or not it is in motion. Manual Recording Mode will save 10-seconds prior to and 50-seconds after the button press saving a 1-minute video into the designated Manual Recording folder on the memory car
Once your vehicle is turned off Thinkware Dash Cam will enter Parking Surveillance Mode,
combining impact detection with motion detection or time lapse (if supported)
*Parking Surveillance Mode requires the use the Hard Wiring Cable (HWC)
COMPREHENSIVE DRIVING INFORMATION WITH GPS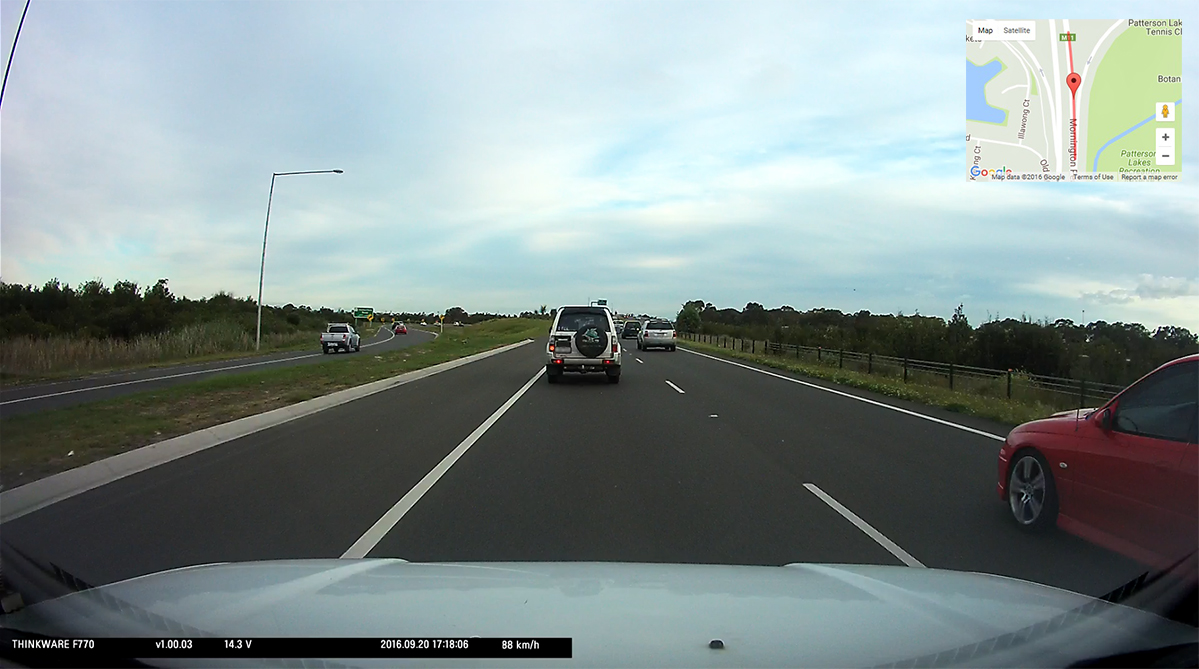 With the GPS Tracker, Thinkware Dash Cams can record the vehicle's driving speed and provide its precise location and routes identification on the map. The GPS Tracker helps you to accurately assess the details of the surrounding area by providing you with the vehicle speed, the time of a collision, and the severity of the impact.
The video recording feature not only stores driving footages in the case of an event, but it can also be used to track your holiday travel routes.
*GPS requires the use the optional GPS Antenna (GPSANT)
SAFETY CAMERA ALERTS*
Don't get caught out
Thinkware Dash Cams provide accurate location information for the Safety Camera Alert function to warn the driver of various safety cameras.
Cultivate safe driving habits with THINKWARE DASH CAM.
FIXED SPEED CAMERA WARNING
AVERAGE SPEED CAMERA WARNING
MOBILE SPEED CAMERA ZONE
RED LIGHT CAMERA WARNING
RED LIGHT & FIXED SPEED CAMERA WARNING

When approaching a fixed speed camera your Thinkware Dash Cam will warn you

"Speed camera in XXX meters, speed limit is XX km/h"

When approaching an average speed zone (timed point to point) your Thinkware Dash Cam will warn you

"Average speed zone, speed limit is XX km/h"

When approaching an area where mobile speed cameras are common your Thinkware Dash Cam will warn you

"Mobile speed camera zone"

When approaching a fixed red light camera your Thinkware Dash Cam will warn you

"Red light camera in ### meters"

When approaching a fixed speed and red light camera your Thinkware Dash Cam will warn you

"Speed and red light camera in XXX meters, speed limit is XX km/h"
*Safety Camera Alerts require GPS
PC VIEWER FOR CHECKING CLEAR AND PRECISE VIDEO
The intuitive and easy-to-use interface of THINKWARE DASH CAM PC VIEWER allows you convenient access to your recorded videos with G-sensor and GPS data such as speed and location. Compatible with both PC and Mac.
You can also change the dash cam settings, format the memory card, or install updates with just a few clicks on the PC Viewer.
SOPHISTICATED IMPACT DETECTIONThe X, Y, Z axes of the G sensor allow you to measure fluctuations in gravity, speed or rotation. You can figure out the axial movement and impact during an accident at a glance.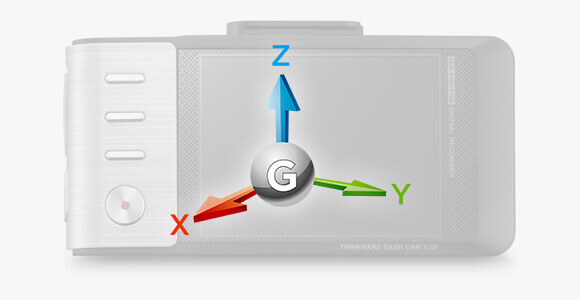 DUAL SAVE - THE NEW STANDARD FOR DASH CAMS:​ DUAL SAVE

Dual Save technology is specially designed to save recorded footages in both the microSD memory card and the built-in internal memory in incident recording mode. It functions as a safeguard against the possible loss of data in the aftermath of a severe collision. In the event that the memory card gets damaged, the Dual Save Technology guarantees a backup copy of the video in the internal memory of the F50.
* The Dual Save Technology is activated when a specific level of impact is detected (The impact sensitivity is adjustable in the Dash Cam's settings).
THERMAL PROTECTION, CAUSE AUSTRALIA GETS HOT!

All THINKWARE Dash Cams feature Thermal Protection and are specially designed for efficient heat dissipation,
but if the extreme Aussie heat gets too much, a built-in thermal sensor protects the device and its data against intense heat by automatically turning it off to prevent overheating.
FORMAT FREE TECHNOLOGY

Format Free Technology utilizes the TAT (Time Allocation Table) save system instead of the FAT (File Allocation Table) system. This allows THINKWARE's proprietary Format Free Technology to eliminate the need for periodical manual formatting of recorded video files on the microSD memory card. It also helps extend the life of your memory card. You can view recorded video files on any PC or smartphone without having to worry about converting files. THINKWARE DASH CAM saves the hassle of manually clearing memory space.
Thinkware F50 Specifications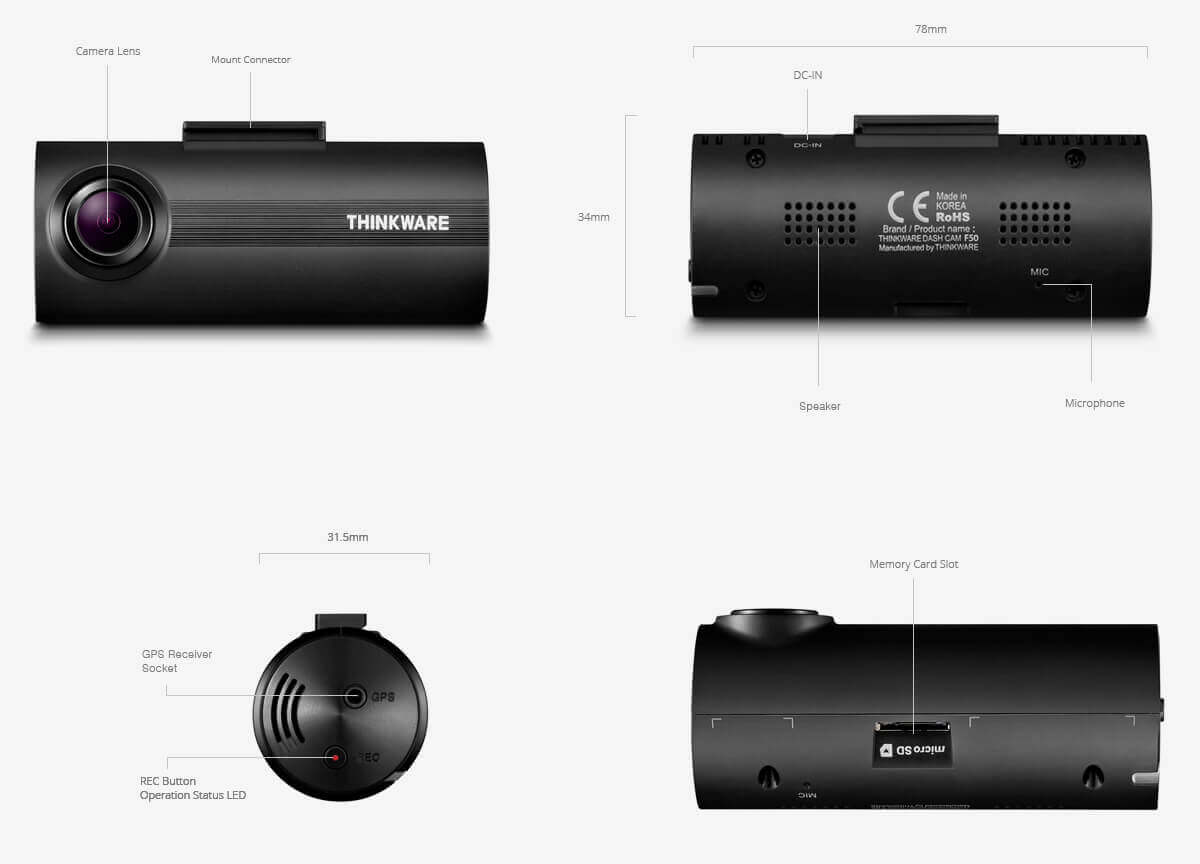 Unit Size (mm) - 78 x 34 x 31.5
Storage Capacity Support up to 64 GB
Super Night Vision** - No
Time Lapse** - No
Camera Resolution - 1080P
Camera Sensor -

2.12 Megapixel
1 / 5.78" CMOS

Frame Rate - 30FPS
Video Format - H.264 MP4
Lens Viewing Angle - 130O
Screen Size - N/A
Audio Recording - Yes (Selectable)
G-Sensor - Yes
G-Sensor Adjustable - Yes (5 point)
Rear Camera Input - No
GPS - Optional
WiFi - No
Smartphone APP - No
Input Voltage - 12/24V DC
Auxiliary Power - super capacitor
Security LED - No
Status LED - Yes
Internal Speaker - Yes
Safety Camera Alerts - Yes (requires GPS)
ADAS

lane Departure - No
Forward Collision - No
Forward Departure - No
Package Contents:
1x Main Dash Cam Unit
1x Mount with 3M Tape
1x Car Charger Cable
5x Cable Holder with 3M Tape
1x 8GB Micro SD Card
1x Micro SD to SD Card Adapter
1x Quick Start Guide
Sound Garage, your premium Dash Cam Specialist, Stockist and Installation centre in the heart of North Lakes.