Description
GNET GT900-4
Truck Dash Cam solution
3 functions for safe driving
ADAS
"ADAS update"
ADAS is a safe driving assistance system for the driver's safe driving environment
FVSA

Front Vehicle Start Alarm

FCWS

Forward Collision Warning System

LDWS

Lane Departure Warning System

When the distance to the vehicle in front of your
car stops by more than 2 meters, the departure
icon of the vehicle in front of you with beep sound
appears on the LCD screen.

When the distance between the vehicle in
front is short and the vehicle speed is high and
in front is rapidly reduced within a short time.
Displays a Collision Warning icon with a notification

If you leave the lane while driving, It is indicated
by a yellow or red line with warning sound.
only, notification works only when the speed
is over the set speed
* Lane detection points, forward departures, and collision warning icons are only visible if the current status of the LCD is live.
ADAS settings can be set only after GPS connection
Night Vision Technology
Enhanced shooting function in dark environments or at night
ADAS is a safe driving assistance system for the driver's safe driving environment when shooting at night or in a dark environment with lacking light.
* There may be differences depending on the usage environment
Live video check of up to 4 channels
LIVE VIDEO
View the front, left, and rear images at a glance with a 4-split screen

Supports up to 512GB + SSD 2TB capacity
MEMORY CARD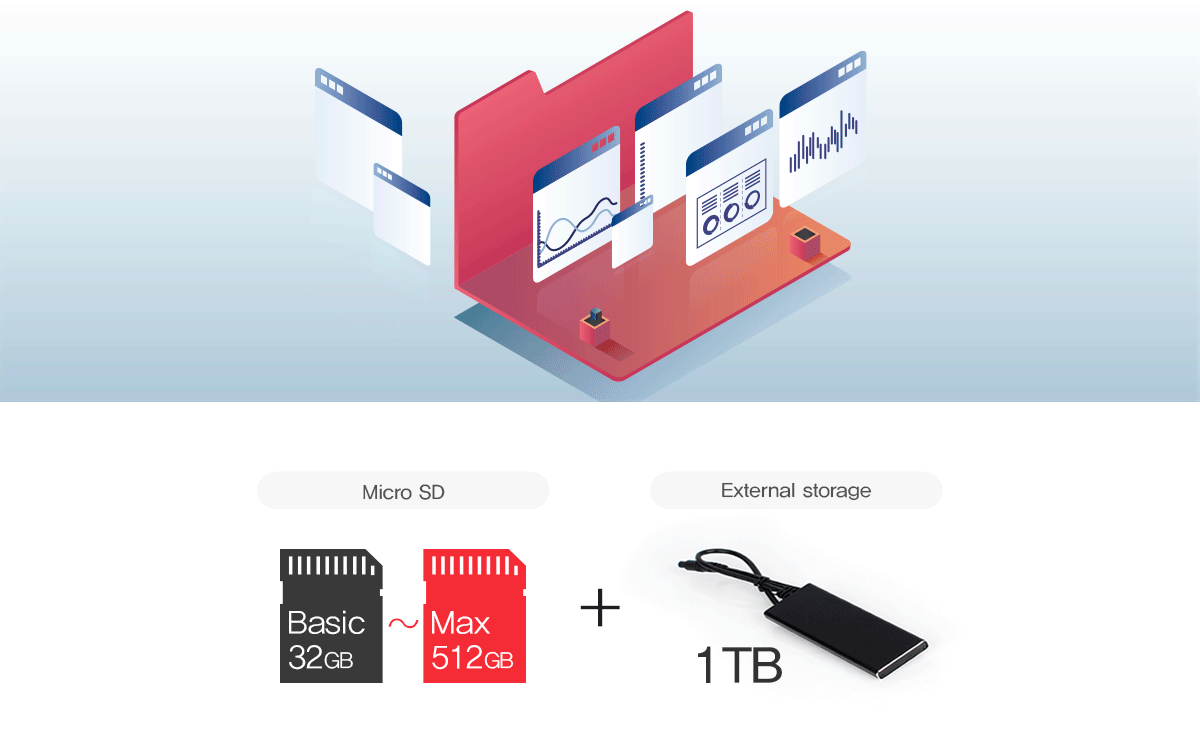 Micro SD memory is provided with basic 32GB and supports up to 512GB
External storage supports up to 2TB SSD
Specification: M. 2 SATA3 method, interface key: B Key, B + M Key compatible, support up to size 228
Compatible models
Western Digital WD Blue 3D M.2 2280(2TB) SATA
Samsung Electronics 850 EVO M.2 (2280): 120GB ~1TB
Samsung Electronics 860 EVO M.2 2280 (1TB)
* For other models, please contact customer service
Infrared camera(IR), IP69K, Tempered Glass & Metal Body
EXTERNAL CAMERA
(For a cargo vehicle)
The suitable camera for cargo vehicles which provides clear picture quality even in the dark at night and dust-proof IP69K which is resistant to dust and water.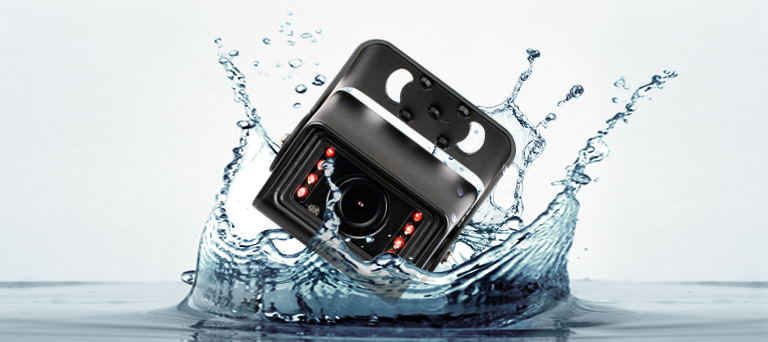 Night video shooting with infrared external camera
You can record bright and clear images even at night with an infrared IR camera.
Perfect Dash Cam for passenger cars
4CH for safe driving
4 Channels Full HD, 4 consisting of front, right, left, rear and inside. 4.5inch LCD

Optimal viewing angle without distortion
WIDE VIEWING ANGLE
Left/right distortion-free viewing angle approximately 150 degrees forward/rearward about 130 degrees

Excessive angle of view refracts the image, causing side effects such as distortion and loss of distance.
The GNET system has an optimal shooting angle of 150 degrees and Rear cam a 130-degree angle of view without this problem,
the situation of side accidents is recorded more reliably, and images without distortion of left / right / up / down are provided.
4. 5 inch LCD Touch Screen
LCD GUI
Easier and clearer 4. 5 inch LCD touch screen with wide screen

The Real-time video, Play recorded video,Dash Cam Settings,
LED setting and memory card with smart GUI can be managed directly from the front camera without PC connection.
MAIN PAGE

SETTINGS PAGE

This is the main page where you can play the recorded video,

live video, setup, Wi-Fi, standby mode, and power off.

the system to record, time, sound, ADAS, events, and settings
Smartphone link via Wi-Fi
G-NET APP
User-friendly GUI
User convenience has been further upgraded
using intuitive icons for anyone to operate convenient
User-focused
Firmware Upgrade

All the features you need at once!
Easy and convenient GNET APP
Customised
configuration by APP
After accessing the firmware
configuration by APP, the latest
firmware can be automatically
searched for and downloaded.
You can easily set up device registration,
real-time video setup, recorded
video list, and customer support
through the mail screen.

Using the Smartphone APP,
you can upgrade the firmware
and play video as well as
configure various settings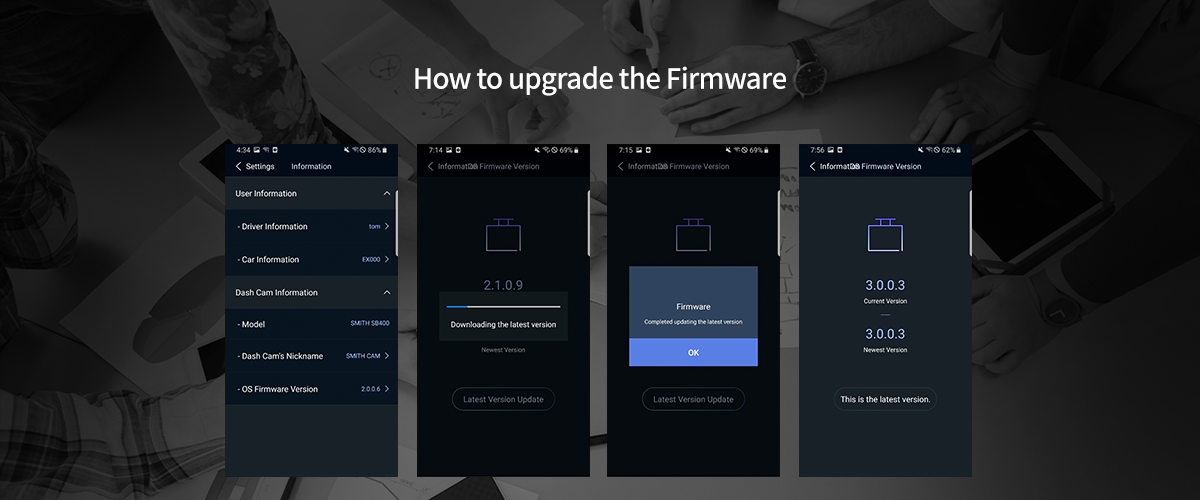 *You can only connect your smartphone with WiFi dongle connected to the black box (WiFi dongle sold separately)
*Disable IOT/WiFi feature when CLOUD is enabled.
For vehicle battery discharge protection
LBP FUNCTION
It is an intelligent SAFE GUARD function that automatically shuts down recording when the voltage falls below
a specified voltage and cuts off the power to protect the battery of the vehicle.

LBP FUNCTION AUTO SAFE GUARD ( LBP ON / OFF )
Settings can be made directly from the dedicated GNET PC VIEWER, and the vehicle voltage can be checked when checking
the recorded video of the vehicle. You can easily set up wirelessly via GNET APP at the time of smartphone interlocking
Division
Configurable Voltage (V)
Power Off
11.3
11.5
11.8
12
12.3
Convenient and diverse functions
FUNCTION
HIGH TEMPERATURE
TEST PASS

MEMORY CARD AUTOMATIC
RECOVERY AND SELF-FORMAT
BUILT-IN VOICE GUIDE
AND MICROPHONE
G-Net has been passed the high-temperature test.
Differs from other brand dash cameras
which shut down the power becasue they can
not withstand at high temperatures.
Unlike other companies' black boxes, which
require users to format periodically, JDR's
own file system with excellent reliability is
applied for convenient use without regular format.

It has a friendly voice guide, high-quality
voice recording, and a high-performance
microphone, which makes it easier to check the
operation and recording conditions while driving.
SECURITY LED FUNCTION

EXTERNAL GPS
VARIOUS RECORDING MODES
It is equipped with intelligent security
LED function to prevent crimes that can parking
terrorism and theft. With clear view, it detects
movement in parking mode and starts
recording automatically.
You can check at a glance the data image
received from the GPS while driving.
* External GPS is optional (sold separately)
Parking Surveillance / Motion Detection
The event recording is automatically recorded
for a certain period of time when the impact is
detected on the vehicle in various
recording modes.
GNET PC VIEWER
Easily play and check recorded video with a viewer program for PC
It provides various functions Zoom, partial zoom function, Lane drawing function, set recording frame.
Backup features include AVI file generation, tampering prevention, thumbnails, and interval repetitive searches.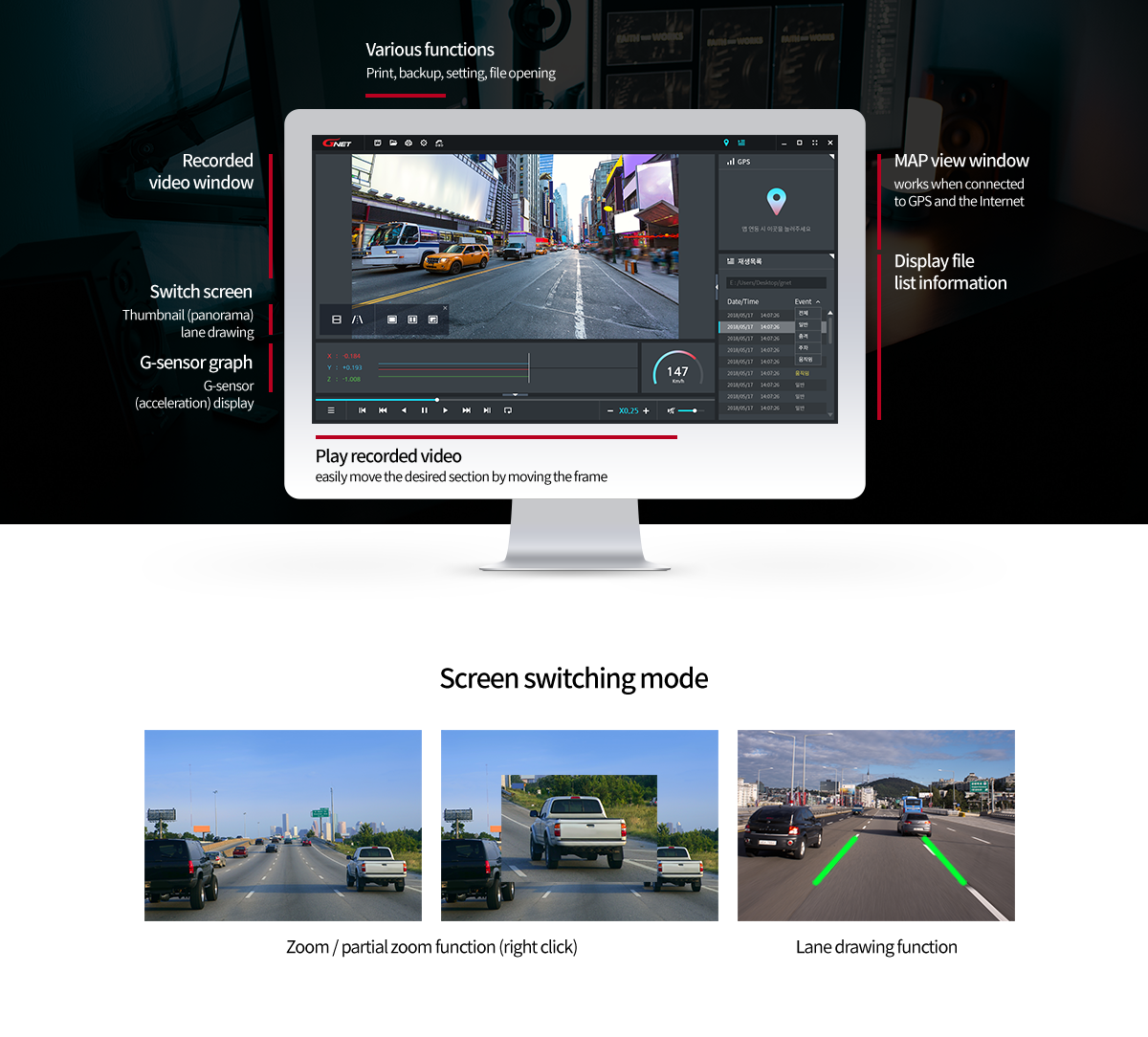 Specifications: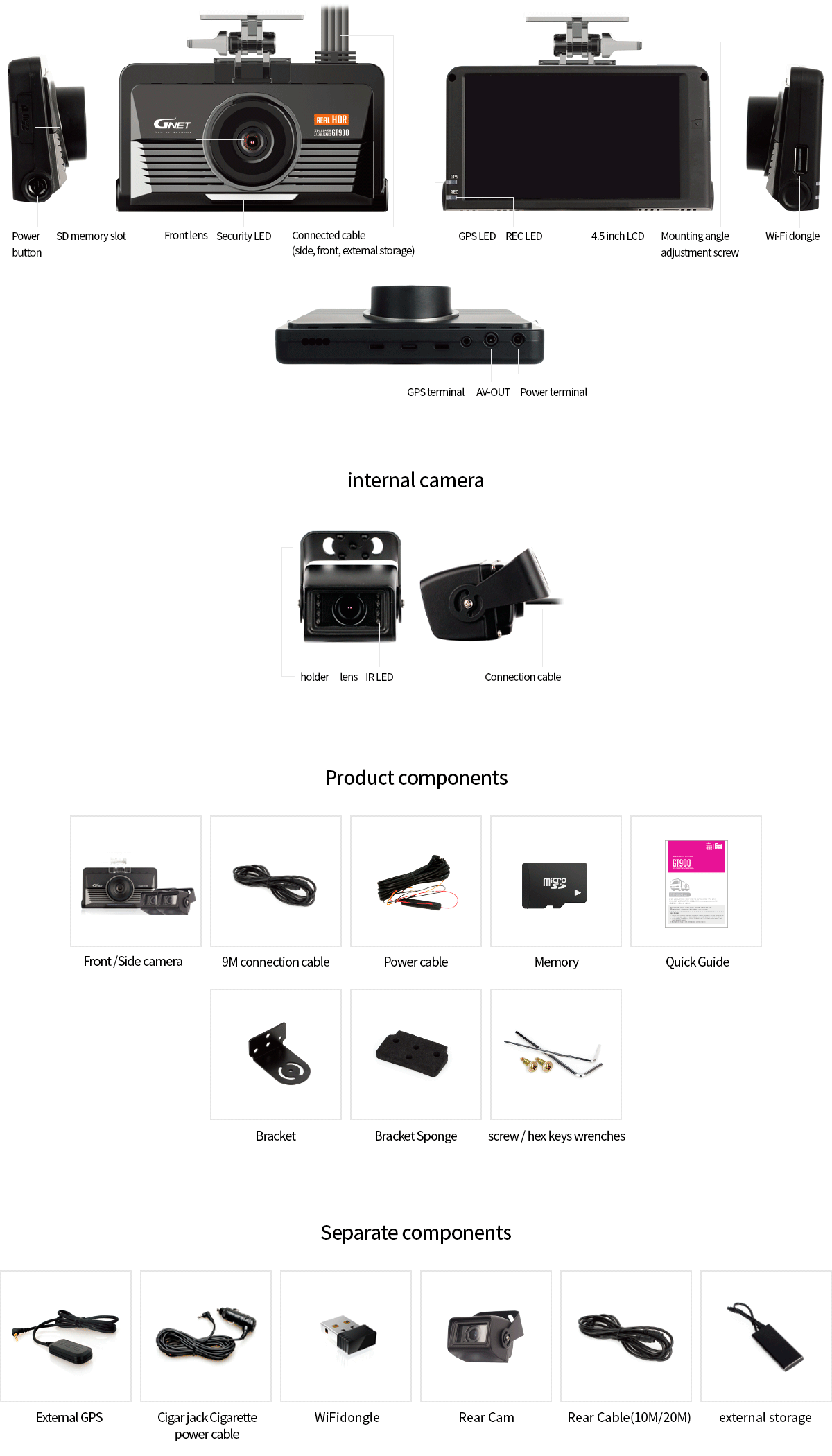 ※The image of components may be different from the real components.
※Specifications and Components may be change without notice for improving quality.
Image Sensor
Full HD CMOS Sensor (Front – FHD, Left – HD, Right – HD, Rear – HD)
Audio input
Built-in Microphone
Video Compression
H.265
Audio Compression
ADPCM
Resolution
Front Camera : 1080P(1920x1080P) / Right, Left side camera : 720P(1280x720P)

Rear Camera : 720P(1280x720P)

Frame per second
Max 30fps
Wi-Fi button
Smartphone registration standby mode
Vibration sensor
Event recording by impact
Voice Support (Speaker)
An audible alarm and voice guidance for operational status.
External GPS(Optional)
Location & speed recording, based on Google map (Optional)
Lens
Front 150° / Side 130° /Rear 130°
Viewer
VISTA / 7 / 8 / 10, 32Bit / 64Bit, Over OSX 10.7 64Bit Google map is available from Windows 7 due to its policy and over Internet Explorer 0 is needed. Required over CPU i5 3.0GHz, memory 4GB Playback may not be smooth according to the PC specification when playing more than 3 channels simultaneously.
Memory(Dual save)
Micro SD 16MB~1TB, External 2M Method SSD storage support (maimxum 1TB) Specification:M.2 SATA3, Interface key:B Key, B+M Compatible,

Max. Storage capacity : 2280 supporte

Power
DC 12V - 24V
Acceptable current value
of the supplied fuse
3A
Operation Temperature
-20℃ ~ 70℃ (Storage : -20℃ ~ 80℃)
Humidity
10~95%
LCD(Touch)
4.5inch 854x480 LCD panel (Touch type)